How to Know it May be Time for Hospice
Watching someone you love suffer from Alzheimer's or another memory debilitating illness is incredibly difficult, and it can be even more challenging to decide when it's time to consider hospice care. Here, we are sharing five signs it may be the right time to consider the extra support of hospice care for an Alzheimer's patient.
Physician determines they are at or beyond stage 7 of the Functional Assessment Staging Scale
The Functional Assessment Staging (FAST) Scale is a tool used to determine if changes in a patient's condition are related to Alzheimer's disease or another condition. If due to Alzheimer's, the changes will occur in sequential order. Alzheimer's disease-related changes do not skip FAST stages.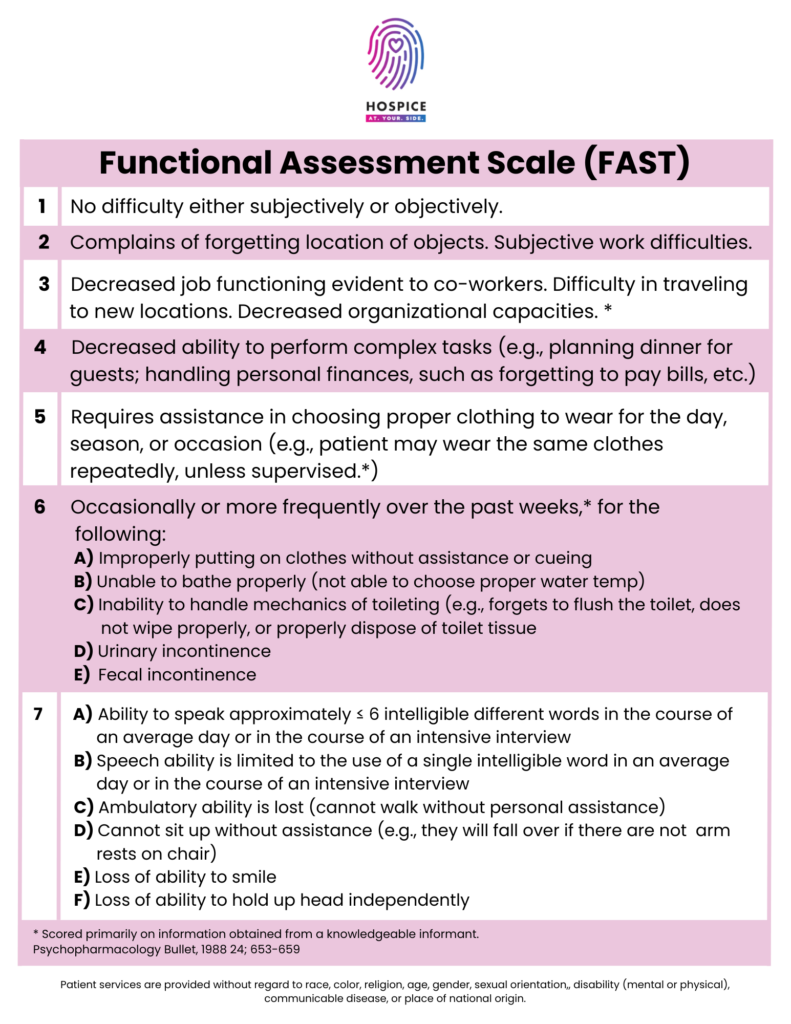 Unable to ambulate independently
This means a person is no longer able to get around on their own. For example, they require assistance getting from room to room.
Requires assistance to dress or bathe
Without assistance, you may notice they put their shoes on the wrong feet or their day-time 'street' clothes on over their pajamas. They are also unable to bathe without assistance.
Becomes incontinent
This includes urinary or fecal incontinence or both.
Unable to speak or communicate
This may begin as the patient only saying 5-6 words per day and gradually reduce to only speaking one word clearly until they can no longer speak or communicate at all. This will also include the inability to smile.
Why Choose Hospice
Hospice care is for patients with a life limiting illness and a life expectancy of six months or less. The main focus is to manage pain and symptoms and ultimately keep the patient comfortable. When you choose hospice for your loved one, their care team can help you to understand what to expect in the final stages of Alzheimer's. They will also provide support to you and the rest of your family throughout the end-of-life process.
If you would like more information on hospice care for Alzheimer's patients, please contact us. We are here to answer any questions you may have.